Welcome!
Welcome to Erik's piece of the internet. Here you can find his bio, a complete list of his writing credits, and some articles and reviews he has written for various games.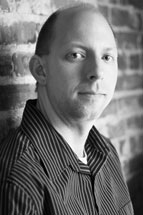 Erik is blessed with a beautiful wife and two fabulous children. He's been writing most of his life and published since 1996. Enjoying college, he took the time to earn a Bachelors Degree in Marketing and later, a Masters in Business Administration.
One of Erik's driving goals is to see families strengthened and have a sense of identity. He is a big proponent of game play to help in these goals. He regularly takes part in the popular podcast On Board Games with Donald Dennis and Scott Nicholson.
Finally, Erik wrote a blog called "Balance in All Things" at www.balanceinallthings.org that dealt with finding balance in our day-to-day lives. Through the blog, Erik helped himself balance out the demands on his time, and hopefully, so can you.
---